R-serie (AD/DA): 2e generatie
RIVAGE PM system: 96 kHz, Dante & TWINLANe Networking
In RIVAGE PM systems it is possible to combine and simultaneously operate Rio3224-D2/Rio1608-D2 units connected via Dante, and RPio622/RPio222 units connected via TWINLANe. A Dante network can accommodate up to 24 Dante devices, including Rio3224-D2/Rio1608-D2 units, while a TWINLANe network can connect up to eight RPio622/RPio222 units. The entire system can operate at 96 kHz.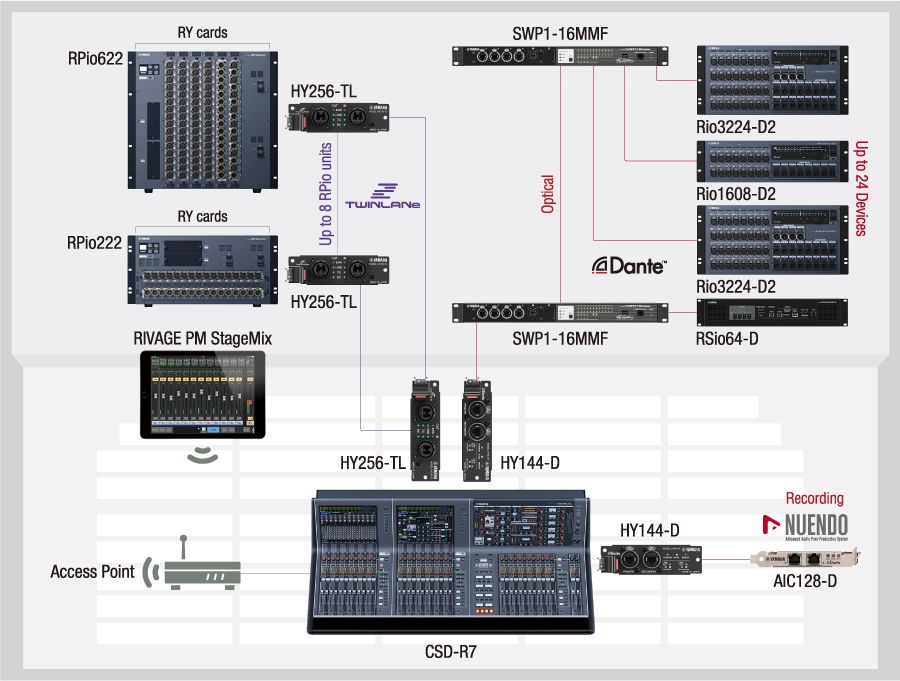 CL/QL System: Backward Compatibility, Flexible Dante Networking
Second-generation Rio3224-D2 and Rio1608-D2 I/O Rack units can be used alongside first-generation Rio3224-D and Rio1608-D units on the same network. In addition to remote control from CL or QL series digital mixing consoles, the Rio3224-D2 and Rio1608-D2 allow numerous parameters to be controlled directly from the I/O Rack interface. This makes it possible to correct unexpected problems directly from the stage area, without having to interrupt the FOH workflow.