Krachtig, realistisch geluid en de nieuwste functies
In vergelijking met het vorige model (de PSR-A300) zijn de samples van de voices die in de PSR-A350 zijn gebruikt, enorm verbeterd. Verder hebben we het ingebouwde luidsprekersysteem optimaal afgesteld om een nog beter geluid te realiseren. Daardoor is het geluid van de PSR-A350 aanzienlijk verbeterd en klinkt het nu nog krachtiger en realistischer.
Een grote verscheidenheid aan voices, stijlen en arpeggio's van hoge kwaliteit, waaronder realistische oosterse content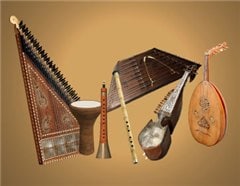 The PSR-A350 features a wide variety of high-quality Voices, Styles and Arpeggiators including realistic Oriental content inherited from high-end models such as the renowned PSR-A2000/3000.
Arabic, Maghreb, Khaligi, Iranian, Turkish and Greek content is all available to the player.
A total of 613 high-quality instrument Voices including
- 1 Sweet! Voice, 3 Cool! Voices and 3 Dynamic Voices
- 45 Oriental Voices and 19 Oriental Drum Kits
210 accompaniments Styles including 115 Oriental Styles (26 Arabic, 25 Khaligi, 11 Magherebi, 23 Iranian, 20 Turkish and 10 Greek Styles)
150 Arpeggiators (including 5 Oriental)
For more details, please refer to the details on Owner's Manual.
Knoppen voor stemschaalinstellingen (Scale Setting) met geheugenbanken en pitchbendwiel


The scale setting buttons allow you to create custom scale tuning by altering each of the 12 scale steps. You can change the scale settings at any time, even when you are playing.
The scale tune memory function allows you to store four of your own scales and recall them instantly whenever you wish.
The pitch bend wheel allows you to control pitch in real-time to add realistic expression to your playing.
USB to Host-aansluiting en 10 gebruikersbanken voor stijlen

You can connect the keyboard to your PC via the USB to Host terminal to transfer data. 10 Style user banks allow you to store and use external Styles.
You can also connect an iPhone, iPod touch or iPad to experience a new dimension of MIDI control with apps. (**)
**For iOS device connection, refer to the "iPhone/iPad Connection Manual"
Audio AUX IN- en Melody Suppressor-functie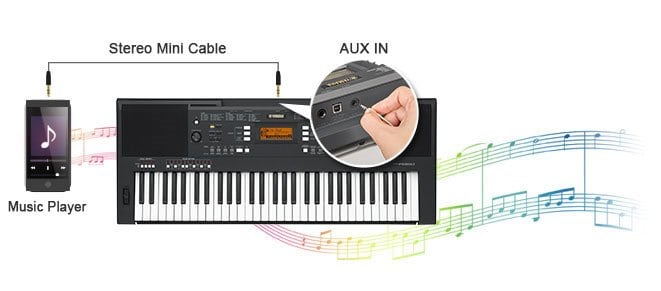 Door een externe audiospeler op de AUX IN-aansluiting aan te sluiten, kunt u met uw favoriete songs meespelen. De geavanceerde zang-/melodieonderdrukker (Melody Suppressor) verlaagt het volume van de zang- en melodielijnen van de originele opnamen, waardoor die partij vrij komt om door u gespeeld te worden. (***) ***Afhankelijk van de song, kan het zijn dat het volume van de melodiepartij niet wordt beïnvloed.
***Depending on the song, the volume of the melody part may not be affected.
Gebruik Master EQ om het geluid aan te passen
De PSR-A350 is uitgerust met een vooraf ingestelde Master EQ waarmee u het geluid van het keyboard genuanceerd kunt aanpassen, met instellingen zoals Bright en Boost, wat het makkelijker maakt om precies het geluid in te stellen dat u wilt.
Handige functies voor leren en oefenen
The 5 song/2 track recorder helps to achieve efficient practice sessions while Duo mode allows two people to play together on identical keyboard sections. This can be very useful when performing live or during lessons.
De lesfunctie biedt in totaal negen stadia - drie voor de linkerhand, drie voor de rechter en drie voor beide handen - om beginnende toetsenisten te helpen de songs te oefenen die in het instrument zijn opgeslagen. Er is een scorefunctie die het leuk maakt om te oefenen en beter te worden, en een 'wacht'-functie die het tempo aanpast aan wat de persoon speelt, waarbij de begeleiding pauzeert totdat de juiste noot wordt gespeeld.
9 registratiegeheugens

Met Registration Memories (registratiegeheugens) kan de gebruiker paneelinstellingen opslaan als een 'momentopname' in een registratiegeheugen en de instellingen vervolgens onmiddellijk terugroepen met één druk op een knop.