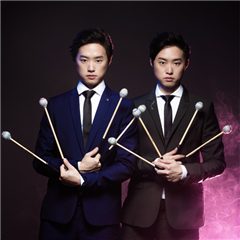 With their unique music partnership for over 20 years since the age of six, the twins present a new face in the percussion field. Their diverse repertoires range from romantic transcriptions to contemporary music. The duo connects music from East Asia to the West and have commissioned original percussion compositions from Taiwanese folksongs to electronic music.
"Of course you would expect great togetherness from a twin brother duo, but Twincussion go far beyond expectations, musically and technically. I´m proud that Twincussion decided to join the Yamaha Artist Family and look forward to our upcoming activities!" – Christoph Müske Percussion Specialist and Artist Relation, Yamaha Music Europe.
Twincussion has participated in multiple international music competitions in Europe and North America. Their first international debut was at the 2014 Southern California International Marimba Competition where they received the Grand Honorable Mention (second place). In 2016, they travelled to Europe and won first prize in the ensemble category at the International Percussion Competition in Italy.
They were awarded first prize in the 2018 Soloist Competition at the Royal Danish Academy of Music and received the Idella Foundation scholarship in Copenhagen. In 2018, Twincussion was invited to perform at Carnegie Hall and presented their debut Showcase Concert at the Percussive Art Society International Convention in Indianapolis. Not only have they toured with the World Percussion Group in the U.S., the duo has also performed in concert halls and music academies in the U.K., Japan, Taiwan, Malaysia, China, Denmark and Switzerland.
Twincussion has been actively promoting and organizing educational projects for young musicians. They were part of the jury panel for the Youth Tuned Percussion Competition in London (U.K.) and gave masterclasses and lectures to students at University of Texas San Antonio, Michigan State University (USA) and the 2019 National Percussion Workshop in Gdańsk (Poland). Jen-Ting and Jen-Yu both hold the Advanced Postgraduate (Soloist) Diploma in the Royal Danish Academy of Music and are artist of Balter mallets and Yamaha.
"Yamaha instruments provide the best quality and sound so that we can perform our music at the highest level. The clarity and round sound of Yamaha marimbas makes it a joy to play on stage." – Twincussion play Yamaha YM5100A, YV3710, Concert Tom 8000 series, Floor Bass Drum FB9000 series.