Biography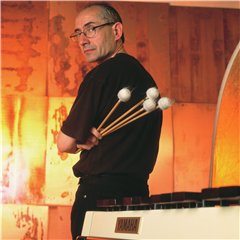 The French percussionist and marimba player, Jean Geoffroy, studied at at the Conservatoire National Superieur de Musique de Paris where he won first prize in percussion in 1985.
After his studies Jean Geoffroy was solo timpanist of the Ensemble Orchestral de Paris from 1985 to 2000. As soloist with the contemporary music ensemble Court-Circuit adviser for composer students at IRCAM, he has managed to blaze a personal trail for himself in the percussion world, which led him to create and play many different pieces. This has led him to inspire and play numerous new works, and he has been the dedicatee and first performer of scores for percussion solo by many of today's finest composers.
In 2004, Jean Geoffroy created the play by Thierry de Mey's Light Music for "head solo" and interactive Scene Music Festival in Lyons. This collaboration with Christophe Lebreton Grame and opens up new perspectives and allows him to consider other spaces and other directions in his career as a soloist.
Passionate about teaching, the author of several several didactic works and methods books including a didactic book on teaching percussion in the Collection Point of View (La classe de percussion, un carrefour, book concerning musical pedagogy published by La Cité de la Musique), Jean Geoffroy is editor of 10 years with the percussion published by the Cité de la Musique. He was teacher assistant with J. Delécluse from 1993 to 1998 at the Conservatoire National Supérieur de Musique de Paris (CNSM), and from 1998 to 2007 taught at the Conservatoire Supérieur de Geneve Percussion Department headed by Yves Brustaux. Since 1999 he is Professor of percussion at the Conservatoire National Supérieur de Musique de Lyon.
Jean Geoffroy is also the artistic director of the CIP (Centre International de la percussion) in Geneva. He is a regular guest in various courses: "Académie internationale des percussions d'Auvergne ", "Bach Seminar" in Grozjnan (Croatia), F.I.P.A International Academy (France) and for master-classes: Perpignan, Bordeaux, Bourg en Bresse, Tours, Strasbourg, Caen, Grenoble, Lyon, Zagreb , London, Madrid. He is Chairman of the Concours International de Vibraphone from Clermont Ferrand "Claude Giot, president of the international competition of the 2009 Geneva percussion, and also regularly invited as jury in many international competitions. Since 1992 he is a member of the editorial board of IRCAM.
Also in recent years, Jean Geoffroy activity conductor who led him to directing various ensembles in France and South America in particular with the ensemble of the National University of Bogota, with whom he has performed works by Pierre Boulez / K. Stochausen / H. Vasquez.
Always ready to perform new pieces or to present the repertorire that he perfectly knows, Jean Geoffroy participated as soloist in nearly thirty recordings, including five recordings of J.S. Bach (2 CD's of Bach Cello suites, Marim'Bach, etc.) and set of the complete suites and partitas written sonatas for solo instrument, Attacca praised by music critics on its release and Monodrama published in 2006.
Jean Geoffroy has received numerous awards: Premier Prix du Conservatoire National Superieur de Paris in 1985 (class of M. Delécluse); Premier Prix d'Excellence du Conservatoire National de Créteil, Percussion and Chamber Music in 1982 (class of M. Brana and M. Séchet); Holder C.A.; Winner of Menuhin Foundation pf "Presence of Music" in 1992.