EISA Awards 2023 - Three Is a Magic Number
EISA Awards 2023 - Three Is a Magic Number

Rellingen, 15th August 2023 - Something that stimulates the music, with winners in three different categories. Taking home prizes for Soundbar System, Streaming Receiver, and High-End Headphone, it's safe to say that the jury of the European Imaging and Sound Association (consisting of editors from 53 renowned consumer electronics publication across 25 countries) have been suitably impressed. In what is turning into a bumper year for Yamaha, here's what they had to say:
YH5000SE: A FORCE TO BE RECKONED WITH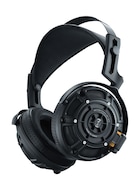 the YH-5000SE is a spectacular return to the high-end headphone arena for one of the pioneers of planar-magnetic technology, and with a lineage that goes back to Yamaha's famed HP-1 of the 1970s. the modern design and build of these ultralight over-ear headphones is stunning, from the pressure-controlled open-back housings to the choice of two premium earpad materials, but it's the dynamic performance and the sense of detail and intimacy that will take your breath away. there are many challengers for the apex of headphone performance, but Yamaha's new flagship is without doubt a force to be reckoned with.
R-N2000A: HERITAGE JAPANESE STYLING, EXCELLENT MODERN FUNCTIONALITY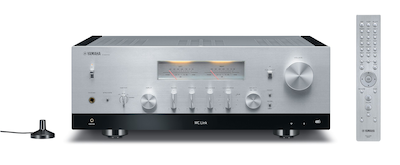 "Japanese craftmanship and hi-fi tradition combine with cutting-edge digital technology to ensure Yamaha's R-N2000A streaming receiver is both stunning and innovative. Yamaha's excellent MusicCast app delivers streaming options and multiroom functionality, but there are also inputs for a TV and turntable, plus FM radio. Under the hood, Yamaha's tried-and-tested amplifier technology delivers a musical, refined performance, with fine detail painted over a wide and deep soundstage. Yamaha's YPAO room correction is particularly welcome, allowing this amp to deliver the goods in every room."
TRUE X: SLICK, AUTHENTIC, WIRELESS – X MARKS THE SPOT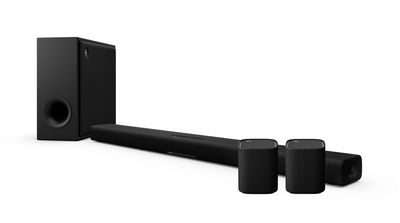 "A home theatre system of impressive flexibility, Yamaha's True X combines the SR-X40A soundbar, SW-X100A subwoofer and WS-X1A surround speakers, all connecting to each other wirelessly for a slick, authentic 3D audio experience. Whether crafting immersive soundscapes from Atmos movie soundtracks or games, or playing music, the performance always captivates with its energy, detail and precise soundstaging. And there's another trick up this system's sleeve – both rears can operate in solo mode as fully portable (and waterproof) Bluetooth speakers. For Yamaha, X really does mark the spot."
IFA 2023
Come and experience all three of our award-winning products (and much more) at IFA 2023 in Berlin, from 1st – 5th September. You'll find Yamaha audio in Hall: 1.2, Stand: 116.
We will also be attending the EISA Gala at Ascot Racecourse, UK on the 29th September
EISA Awards 2023 - Three Is a Magic Number