Yamaha announces TW-ES5A True Wireless Sports earbuds delivering True Sound, driving your best performance
Yamaha announces TW-ES5A True Wireless Sports earbuds delivering True Sound, driving your best performance
Yamaha Corporation is thrilled to announce the TW-ES5A true wireless sports earbuds with a variety of five color variations including Yamaha Racing Blue. While incorporating the design principle of creating a sound that motivates the user, the TW-ES5A inherit Yamaha's True Sound philosophy, delivering clear and very real vocal and musical instrument sound, bringing listeners closer to the artist - a feat which only Yamaha with over 130 years history of Musical Instruments can achieve. Designed with the athlete in mind, the earbuds have a clear contrast between stillness and motion, the energetic dynamics produce a sound that gets you in the zone for your workout. The newly designed secure fit, IPX7 waterproof rating and the ambient sound mode ensures you will stay in the zone until you stop. Moreover, Yamaha's unique Listening Care technology provides intelligent equalization at any volume to support a safe music listening even while you are in the zone.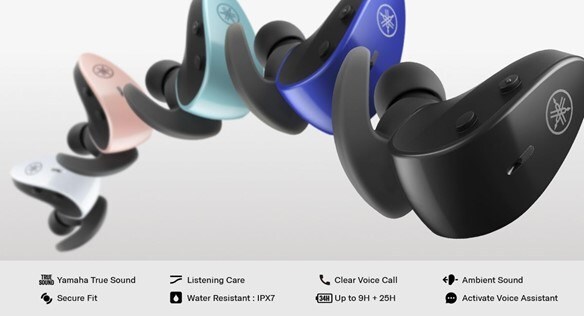 TRUE SOUND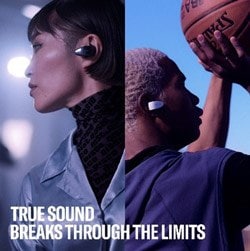 TRUE SOUND
As the world's leading manufacturer of musical instruments and audio equipment, Yamaha is uniquely positioned to express every sound as the artist intended. Likely to be used in harsher environments, the mechanical design had to consider vibration caused through physical activity, both of which can often affect low-frequencies in particular. Vibrations were tested in various physical activity, indoors and outdoors, with fine adjustments made to ensure energy and dynamics were always expressed in full.
Moreover, noting the likely environment in which the TW-ES5A will be used, specific sound components were incorporated into the design to keep the athlete's motivation high, all connected with the core True Sound concepts of 'Dynamics', 'Tonal Balance' & 'Sound Image'.
Dynamics: By designing clear contrast between stillness and motion in the music, the sound has a tempo that brings sense of rhythm to exercise while the uplifting melody enhances the users' mood, keeping you 'in the zone'
Tonal Balance: To encourage and motivate your exercise or play, Yamaha have paid attention to designing energetic and clear vocals that give a presence to the human voice of your music lyrics
Sound Image: By localizing the vocals to the head side, the music itself, while conveying the artists intentions, does not interfere or distract you, driving you to your best performance
STAYING IN THE ZONE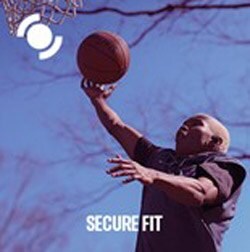 STAYING IN THE ZONE
Boasting an array of additional features suited to use during physical activity, the TW-ES5A help you stay in the zone.
SNUG, SECURE FIT THAT DOESN'T DISTRACT YOUR PLAY
With their secure fit, the TW-ES5A attenuate external noise while delivering True Sound to the listener. Targeted for use during sports or exercise, a secure fit means the earbuds must remain secure in the ear throughout high-motion activity, withstanding high-vibrations.
Yamaha's new ergonomically designed silicone fins are used on the TW-ES5A to prevent slippage. By separating these fins from the main body, they support the main body while being grounded on multiple points in the ear to withstand significant vibration making them suitable for a variety of athletic endeavors.
IT'S OKAY TO GET WET, EVEN WITH SWEAT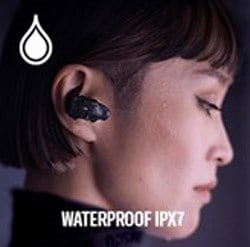 IT'S OKAY TO GET WET, EVEN WITH SWEAT
Likely to be used in harsher environments, the mechanical design had to consider water intrusion. TW-ES5A have equipped with waterproof that equivalent to IPX7 rating yet considered its sound quality. Achieving an IPX7 waterproof rating required careful consideration of materials. Sitting at the font of the 6mm waterproof driver is a highly permeable mesh ensuring sound is delivered to the ear clearly without losing tonal balance.
IMMERSED IN YOUR WORLD, YET AWARE OF THE OUTSIDE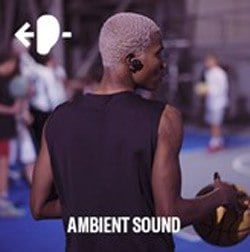 IMMERSED IN YOUR WORLD, YET AWARE OF THE OUTSIDE
While remaining focused during exercise is important, it may often also be important to be aware of our surroundings. When you go out or move around, you can fully immerse yourself in your own world with your favorite music, and still maintain connection with the outside world.
LISTENING CARE
Throughout its history, Yamaha has aspired to enrich the hearts and lives of people with sound and music. A fundamental promise of TRUE SOUND is not just delivering this today but allowing future generations to experience TRUE SOUND from Yamaha. However recent news from the World Health Organization (WHO) has challenged this goal. According to a report published in 2019*1, the WHO estimates more than one billion young people are at risk of developing avoidable, permanent hearing loss due to unsafe listening practices. The long-term impacts may be especially compounded by daily wearing of earbuds and headphones at high volume levels. "Yamaha has enlighten hearing health of the wide range of listeners through our product marketing communication of headphone from the social responsibility point of view. We are very excited to launch the TW-ES5A sports earbuds with plenty of unique features to engage our customers and their active lifestyle, ensuring they can enjoy music for many years to come," said Yoshi Tsugawa, Senior General Manager, Home Audio Division, Yamaha Corporation.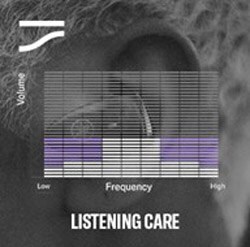 In support of safe music listening, Yamaha has included Listening Care which balances the difficult-to-hear high and low frequencies ensuring every nuance in the music can be heard, which allows you to enjoy your music even at a lower volume without having to turn up the volume excessively. Encouraging safe listening has been championed by the WHO who are encouraging manufacturers of audio devices to consider the detrimental affect listening at excessive volume can have on our long-hearing health. Yamaha has heeded this call with Listening Care being a feature which encourages people to consider their long-term hearing health. Listening Care is a hallmark of the Yamaha wireless headphone and earphone range.
USABILITY AND VERSATILITY
USABILITY AND VERSATILITY
While designed for exercise or physical activity, there will of course be times when your sports earbuds become your every-day earbuds. Considering thins, the TW-ES5A is abundant with features that make them high versatile. Voice calls are crystal clear with the Qualcomm® cVc™ (Clear Voice Capture) technology. The high-performance MEMS microphones in both earbuds are dedicated to calls, separating the incoming voice from other noises during sound capture. TrueWireless™ Mirroring enables independent left-right transmission for greater playback stability. Further, the 'Role-Swap' function prevents battery levels from decreasing unevenly by determining the primary/secondary units based on earbud status at the time of connection. Overall, this achieves up to 34 hours of listening (9 hours + 25 hours from the charging case).
Gaming Mode is also included – a low-latency mode ideal for playing games on portable devices or for watching various video content readily available on various devices. In-ear detection focuses on ease-of-use and provides a seamless user experience. Simply by removing one earbud, music will automatically pause while replacing the earbud will initiate playback to resume. This convenient feature offers excellent usability and smooth operation.
While the in-ear detection and convenient buttons offer simple control, the Headphone Control app offers extended features such as EQ adjustments to tailor the music to the listeners preference.
AT-A-GLANCE
AT-A-GLANCE
• Yamaha True Sound that drives you to your best performance
• Unique earbud shape with silicone fins for a secure and comfortable fit
• IPX7 water and sweat resistant
• Ambient Sound: choose when you need to be aware of your surroundings
• Listening Care: loudness optimization for full-range sound at lower listening volumes
• Crystal-clear calls with advanced mic design and Qualcomm® cVc (Clear Voice Capture)
• Stable wireless connectivity with Qualcomm® TrueWireless™ Mirroring and role swapping features to extend battery life of both earbuds
• Long-lasting: up to 34 hours of total battery life (9hrs + 25hrs)
• Gaming Mode reduces the delay between sound and video, optimizing performance for gaming use and video content
• In-ear detection provides seamless and smooth operation.
• Custom EQ setting in Headphone Control App
Yamaha announces TW-ES5A True Wireless Sports earbuds delivering True Sound, driving your best performance