Biography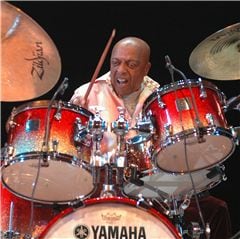 When Roy Haynes plays his drums, sixty years of experience informs every authoritative stroke. A working musician since 1942, Haynes' unrelenting swing and sound of surprise has graced the bands of a who's-who list of jazz innovators across a wide spectrum of improvisation.
Roy Haynes was born in Boston, March 13, 1926, and was keenly interested in jazz ever since he can remember. Primarily self-taught, he began to work locally in 1942 with musicians like the Charlie Christian inflected guitarist Tom Brown, bandleader Sabby Lewis, and Kansas City blues-shout alto saxophonist Pete Brown, before getting a call in the summer of 1945 to join legendary bandleader Luis Russell (responsible for much of Louis Armstrong's musical backing from 1929 to 1933) to play for the dancers at New York's legendary Savoy Ballroom. When not travelling with Russell, the young drummer spent much time on Manhattan's 52nd Street and uptown in Minton's, the legendary incubator of bebop, soaking up the scene.
Haynes was Lester Young's drummer from 1947 to 1949, worked with Bud Powell and Miles Davis in '49, became Charlie Parker's drummer of choice from 1949 to 1953, toured the world with Sarah Vaughan from 1954 to 1959, did numerous extended gigs with Thelonious Monk in 1959-60, made eight recordings with Eric Dolphy in 1960-61, worked extensively with Stan Getz from 1961 to 1965, played and recorded with the John Coltrane Quartet from 1963 to 1965, has intermittently collaborated with Chick Corea since 1968, and with Pat Metheny during the '90s. Metheny was featured on Haynes' previous Dreyfus release Te Vou! (voted by NAIRD as Best Contemporary Jazz Record of 1996). He's been an active bandleader from the late '50s to the present, featuring artists in performance and on recordings like Phineas Newborn, Booker Ervin, Roland Kirk, George Adams, Hannibal Marvin Peterson, Ralph Moore and Donald Harrison. A perpetual top three drummer in the Downbeat Readers Poll Awards, he won the Best Drummer honors in 1996, and in that year received the prestigious French Chevalier des l'Ordres Artes et des Lettres.
On Praise, he gathers a top-shelf quintet of improvisers half his age. The 72-year-old master attacks nine tunes from each conceivable angle and possible configuration; typically, his young cohorts have to exert every ounce of creative energy not to be left in the dust. Those youngbloods include two newcomers to Haynes' circle, altoist Kenny Garrett and tenorist David Sanchez. Roy's son Graham Haynes adds his distinctive sound on cornet and flugelhorn to the powerful front line. Pianist David Kikoski has been with Haynes for 15 years, while bassist Dwayne Burno is a recent initiate.
As on his previous two recordings for Dreyfus (When It's Haynes, It Roars and Te Vou!), Praise refers to Haynes' glorious legacy while adhering firmly to his credo, "Now is the time." Within the imaginative arrangements, Haynes stamps his personality on each tune, intuitively designing rhythmic phrases like a great tap dancer. "I structure pieces like riding a horse," he says. "You pull a rein here, you tighten it up here, you loosen it there. I'm still sitting in the driver's seat, so to speak. I let it loose, I let it go, I see where it's going and what it feels like. Sometimes I take it out, sometimes I'll be polite, nice and let it move and breathe -- always in the pocket and with feeling. So the music is tight but loose."
Haynes elicits remarkable performances. For example, there's a startling duo with Kenny Garrett on "My Little Suede Shoes." 49 years after Haynes played traps alongside two congueros on Charlie Parker's original recording, he dialogues with the ferocious altoist almost in free meter, implying the beat. "Israel" is a tribute to Haynes' friend, composer John Carisi, which premiered on the April 1949 Birth of the Cool session for Capitol with Kenny Clarke on drums. Here the soloists take precise, elegant solos on the challenging changes, spurred by Haynes' all-over rhythm painting. "The Touch Of Your Lips" is the latest in a series of Sarah Vaughan ballads that Haynes has recorded, featuring a compelling Graham Haynes statement on flugelhorn. David Sanchez, in fine form throughout, blows full bore on Kikoski's Coltranesque "Inner
Trust," while the versatile pianist gets two trio features -- a tasty interpretation of the traditional hymn "Morning Has Broken" and a rollicking version of McCoy Tyner's "Blues On The Corner," playing electric piano. The three horns handle Chick Corea's rhythmically tricky "Mirror, Mirror" with panache, while there's keen ensemble interplay throughout "After Sunrise," augmented by in-demand Latin percussionist Daniel Moreno. The proceedings conclude with a finely textured drum solo, "Shades of Senegal."
Haynes assesses his restless persona - "I am constantly practicing in my head. In fact, a teacher in school once sent me to the principal, because I was drumming with my hands on the desk in class. My father used to say I was just nervous. I'm always thinking rhythms, drums. When I was very young I used to practice a lot; not any special thing, but just practice playing. Now I'm like a doctor. When he's operating on you, he's practicing. When I go to my gigs, that's my practice. I may play something that I never heard before or maybe that you never heard before. It's all a challenge. I deal with sounds. I'm full of rhythm, man. I feel it. I think summer, winter, fall, spring, hot, cold, fast and slow -- colors. But I don't analyze it. I've been playing professionally over 50 years, and that's the way I do it. I always surprise myself. The worst surprise is when I can't get it to happen. But it usually comes out. I don't play for a long period, and then I'm like an animal, a lion or tiger locked in its cage, and when I get out I try to restrain myself. I don't want to overplay. I like the guys to trade, and I just keep it moving, and spread the rhythm, as Coltrane said. Keep it moving, keep it crisp."
At 2011,ROY HAYNES TO BE HONORED WITH GRAMMY LIFETIME ACHIEVEMENT AWARD!!
Congrats Roy,from All of Yamaha Drum Team.