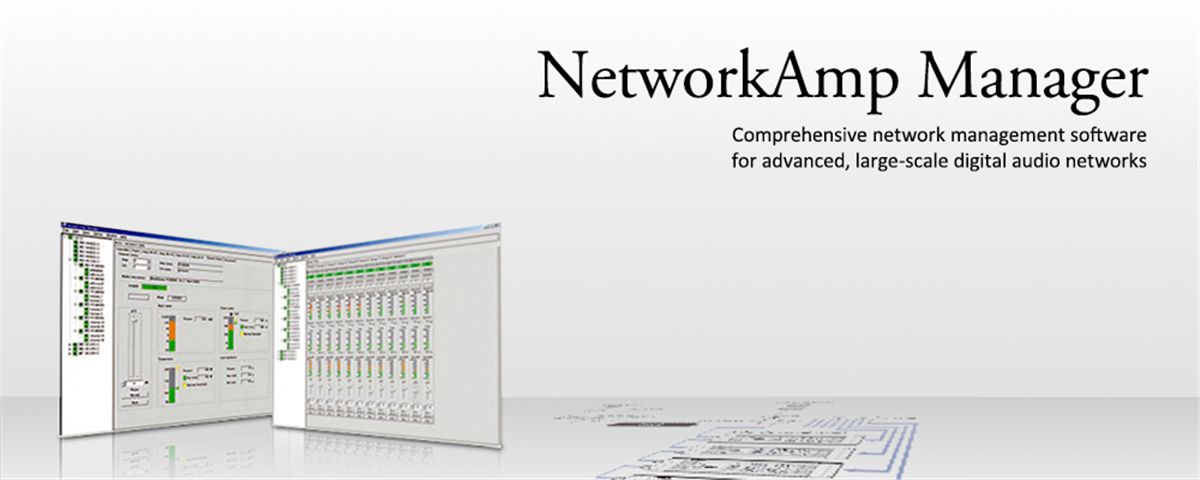 Comprehensive network management software for advanced, large-scale digital audio networks
Full control and monitoring of extended Tn and PC-1N Series amp systems
The NetworkAmp Manager is a software application that lets you monitor, manage, and control Tn series and PC-1N series amplifiers connected to a network via the ACU16-C and NHB32-C. The software runs on Windows based computers, and can be used to control a system of up to eight NHB32-C hubs, sixteen ACU16-C control units, and as many as 512 power amplifiers. Simply connect your computer's COM or USB port to any ACU16-C or NHB32-C on the network, and use the software's efficient, intuitive graphical interface to remotely monitor and control each networked device.
NHB32-C network hub and bridge function management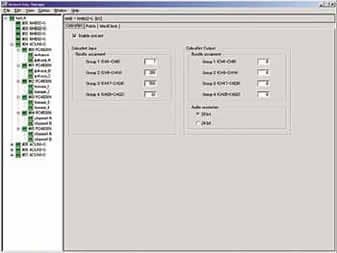 CobraNet™ is capable of transferring eight channels of 20-bit data or seven channels of 24-bit data per bundle. The NetworkAmp Manager application can be used to assign the audio data inputs and outputs for each bundle. Each NHB32-C can transmit and receive up to four bundles of audio data. Received AES/EBU audio data can be assigned to four bundles to be transferred via the CobraNet™ network, and bundles received via the network can be assigned to AES/EBU signals as required.
CobraNet channel and analog output assignment for ACU16-C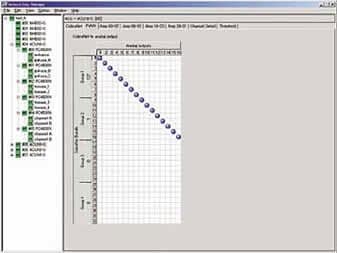 A single ACU16-C unit can receive up to four digital audio bundles via CobraNet™ and convert any specified 16 channels to analog output. The NetworkAmp manager makes it possible to assign the CobraNet™ input and output bundles as required.NetworkAmp Manager lets you specify which 16 of the 32 available channels of digital audio data will be output in analog form and sent to the Tn or PC-1N series amplifiers. An intuitive parameter layout makes setup fast and easy.
ACU16-C amplifier control function management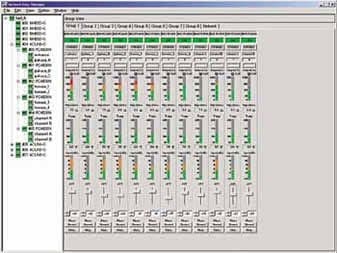 Another major feature of the NetworkAmp Manager is its ability to automatically monitor the operation of each amplifier via the ACU16-C. Each ACU16-C can handle as many as 32 amplifiers, making it easy to keep track of and control specific amplifier groups. A channel detail window provides graphical monitoring and controls for each channel, including power-on/standby, attenuation in 62 steps, phase (normal/reverse), mute (on/off), input and output metering, heat sink temperature, and load impedance (current, max. hold, min. hold).
Warning and automated logging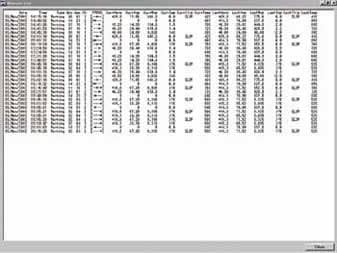 Using the ACU16-C amp control function the NetworkAmp Manager can warn you when a parameter exceeds a redefined wattage, temperature, or impedance (upper/lower) value. This lets you keep track of all amplifiers in the system from a central computer display in real time. Warnings are automatically logged to an info file so it's easy to pinpoint and troubleshoot problems.
The colors and finishes shown may vary from those on the actual products.