New Yamaha TW-E7B True Wireless earbuds deliver True Sound with large 10mm driver and acoustically designed housing
New Yamaha TW-E7B True Wireless earbuds deliver True Sound with large 10mm driver and acoustically designed housing
Yamaha Corporation is excited to launch the TW-E7B true wireless earbuds, sitting atop their extensive true wireless offering. Adopting Yamaha's True Sound philosophy at the forefront of their design, the TW-E7B are for customers wanting to truly immerse themselves in their favorite music, demanding superior sound quality while not compromising on the latest technology and convenient features.
True Sound is Yamaha's promise of bringing the listener 'closer to the artist'. With use in varying environments and situations, True Sound is achieved through a variety of features and technologies – acoustic and electronic. Further, in support of safe music listening, Yamaha has included Listening Care – Advanced, which provides intelligent equalization at any volume ensuring every nuance in the music can be heard. The TW-E7B adopts an array of additional important features offering versatile, high-quality performance including excellent call quality, ideal for remote working situations, Ambient Sound mode, improved low-latency mode - ideal for gaming or watching video content, in-ear detection for automatic start/stop of music and app control including EQ adjustment with the new Headphone Control App.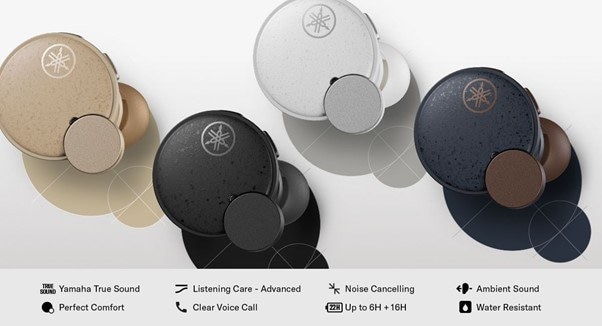 TRUE SOUND
TRUE SOUND
As the world's leading manufacturer of musical instruments and audio equipment, Yamaha is uniquely positioned to express every sound as the artist intended. Conveying the intent and feeling of the artist is a fundamental objective of True Sound. Achieving this is based on three key elements: Tonal Balance, Dynamics and Sound Image. Through the acoustic and electronic technologies, the TW-E7B realizes music reproduction that combines high-resolution sonic timbre (Tonal Balance), rhythmic and deep musical lows (Dynamics), and naturally enhanced spatial expression (Sound Image).
ESSENTIALS FOR TRUE SOUND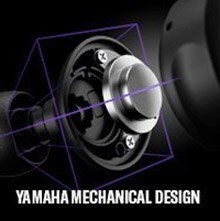 ESSENTIALS FOR TRUE SOUND
Unconventional for a true wireless earbud, the TW-E7B employs a large 10mm driver unit with a large-diameter voice coil realizing truly musical low-frequency reproduction. The diaphragm is highly responsive, accurately reproducing tonal qualities with particular sensitivity to the dynamic lulls and rises in the sound. Unnecessary vibrations and echo interferences have been minimized due to the housing design, delivering clear high-frequencies and excellent spatial expression. Air inside the housing is carefully controlled with 'leak-holes' on the front and back of the driver housing, efficiently maximizing the performance of the driver unit.
DELIVERING TRUE SOUND TO YOUR EAR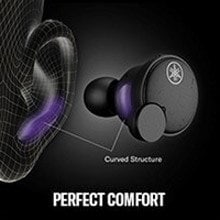 DELIVERING TRUE SOUND TO YOUR EAR
Excellent wearability ensures comfort over lengthy listening periods but is also vital to minimize sound leakage, producing rich low-frequency sounds and overall accurate audio. The mechanical design of the TW-E7B is such that minimal pressure is placed on various parts of the ear, reducing wearing fatigue over long listening periods. Further, the elliptical design ensures a comfortable fit for different ear shapes, simply by rotating the earbud into the most comfortable position. In addition, the 5 different ear-tip sizes provides a tight yet comfortable fit, ensuring full frequency reproduction over extended listening periods, with low levels of fatigue.
BESPOKE LISTENING ROOM IN YOUR EARS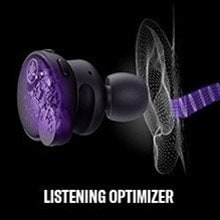 BESPOKE LISTENING ROOM IN YOUR EARS
Every ear is different. Often the left and right ear of the same person has different characteristics. Differences in each ear can impact the sound, particularly when using earbuds. A small ear canal has small space volume which can lead to an increase is low-range sounds, affecting the overall sound balance. Listening Optimizer analyzes and corrects the effects of individual ear shapes and wearing in real time. The TW-E7B has an internal microphone which monitors the signal affected by the shape of the ear canal and how the earbud is worn, calculating the difference from the original audio signal, and finally correcting the difference so that it can deliver True Sound.
CUT THE NOISE, NOT MY MUSIC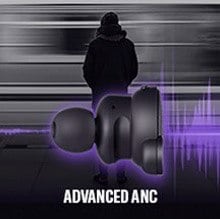 CUT THE NOISE, NOT MY MUSIC
Yamaha's own unique algorithm is employed on the TW-E7B with a focus on retaining the nuances of the music while blocking out external noise. Traditional ANC uses an internal mic to listen to noise in the ear canal. However often the sound in the listeners' ear canal also includes music, which is then also at risk of also being suppressed. Traditionally this is overcome by applying EQ correction to the music signal in advance, raising the low-frequency level that is likely to be compressed. This can however degrade the audio by applying unnecessary processing of the sound. Yamaha's propriety algorithm analyses the signal received from the internal mic and the playback music signal, calculating and filtering noise components, then finally separates the noise component leaving the music signal untouched for optimum sound.
LISTENING CARE - ADVANCED
A trademark of Yamaha headphone and earphone range, Listening Care is a feature acknowledging that Yamaha's promise of True Sound is something we hope lasts a lifetime for our customers. As reported by the World Health Organization (WHO), 1 billion young people are at risk of losing their hearing due to unsafe listening practices . Yamaha's Listening Care "is one of the unique features which allows TRUE SOUND listening experience for a lifetime without losing any musical expression in any volume level" explains Yoshi Tsugawa, Senior General Manager, Home Audio Division, Yamaha Corporation.
Listening Care balances the difficult-to-hear high and low frequencies during low-volume listening so that the original balance of the music is maintained. Listening Care – Advanced can be found on the TW-E7B which factors in Content Volume (such as the dynamic range of the music and the different recording levels) and Surrounding Noise (the level of external noise which, if high, can overwhelm the music requiring the user to increase the earbud volume) to deliver the optimal sound at any volume. Listening Care – Advanced has been designed to support and encourage safe listening practices, encouraging users to think about their long-term hearing health.

CONVENIENCE, VERSATILITY, USABILITY
CONVENIENCE, VERSATILITY, USABILITY
The TW-E7B has an array of convenient features that ensure versatile performance and excellent usability. For voice calls, the TW-E7B feature Qualcomm® cVc™ (Clear Voice Capture) technology. The high-performance MEMS microphones in both earbuds are dedicated to calls, separating the incoming voice from other noises during sound capture. This makes them ideal for use in remote working situations where phone and video calls are a frequent part of their daily use. With their portability, features that extend battery life and offer stable connection are critical to their versatility. The TW-E7B incorporate TrueWireless™ Mirroring which enables independent left-right transmission for greater playback stability. Further, the 'Role-Swap' function prevents battery levels from decreasing unevenly by determining the primary/secondary units based on earbud status at the time of connection. Overall, this achieves up to 22 hours of listening with ANC turned on (6 hours + 16 hours from the charging case).
Ambient Sound mode enables external sound, such as announcements on public transport or traffic noise if out walking, to be easily heard. This convenient feature makes the TW-E7B ideal for use in just about any situation.
The TW-E7B are equipped with Gaming Mode – a low-latency mode ideal for playing games on portable devices or for watching various video content readily available on various devices. This extends their usage beyond music listening and remote working situations.
In-ear detection focuses on ease-of-use and provides a seamless user experience. Simply by removing one earbud, music will automatically pause, while replacing the earbud will initiate playback to resume. This convenient feature offers excellent usability and smooth operation.
While the in-ear detection and convenient buttons offer simple control, the Headphone Control app offers extended features including turning Listening Care – Advanced on or off while including EQ adjustments to tailor the music to the listeners preference.
AT-A-GLANCE
AT-A-GLANCE
• Yamaha True Sound: CLOSER TO THE ARTIST astonishing realism, detail and clarity
• Listening Optimizer: corrects the sound in real time, adapting to you and your environment
• Advanced ANC: Yamaha-exclusive Active Noise-Cancelling technology that leaves your music pure and untouched
• Listening Care - Advanced: dynamic loudness optimization for full-range sound at lower listening volumes
• Crystal-clear calls with advanced mic design and Qualcomm® cVc (Clear Voice Capture)
• Stable wireless connectivity with Qualcomm® TrueWireless™ Mirroring and role swapping features
• Ambient Sound mode for use when we need to be aware of our surroundings
• Gaming Mode reduces the delay between sound and video, optimizing performance for gaming use and video content
• In-ear detection provides seamless and smooth operation
• Custom EQ setting in Headphone Control App
• IPX5 water and sweat resistant
• Long-lasting: up to 22 hours of total battery life (6 h + 16 h)
New Yamaha TW-E7B True Wireless earbuds deliver True Sound with large 10mm driver and acoustically designed housing