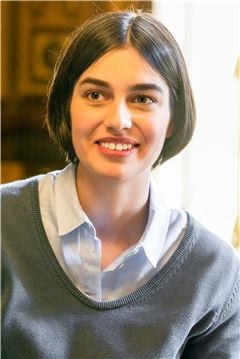 Leonie Klein was born in 1993 in Wittlich, Germany, and started playing percussion at the age of six. It was followed by several prizes in the competition of "Jugend Musiziert" until she attended in 2011 the University of Music Karlsruhe as a preschooler. 2019 she completed her master studies in the field of percussion under Prof. Isao Nakamura, Thomas Höfs and Jochen Brenner with honor.
Furthermore she completed master studies in the field of music-journalism for broadcast and multimedia at the University of Music Karlsruhe. Currently she does her doctorate on the subject of contemporary music for percussion solo. Among others she attended the festivals for contemporary music "ZeitGenuss" and "New Counterpoints", the "Forum neuer Musik" of the Deutschlandfunk in Cologne, "SWRlive!" in the broadcast studio Mainz, the "ARD Hörspieltage", the "Rising Stars!"-Festival hosted by the Universities of Music Karlsruhe, Stuttgart and Freiburg and the International Summer Course for Contemporary Music in Darmstadt.
The cooperation with Helmut Lachenmann, Vinko Globokar, Nicolaus A. Huber, Dieter Schnebel and Prof. Dr. Rudolf Frisius influenced her musical development. Her debut CD "Gathering Thunders" was published in 2018 at the label Wergo.
"It all started with a striking-yellow snare when I turned 8 years old. I grew up with Yamaha instruments and I can´t imagine any better sound. With my Yamaha equipment I feel at home on any stage." Leonie plays YM5100A, YV3710, CB7028, CT9000, OSM1465.